The First Hungarian Mekong Expedition, 2006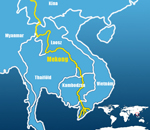 After arriving in Bangkok in early February, I had no idea what I should do next. I spent two weeks in Thailand but was looking forward to more adventure, so I travelled to Cambodia. I was teaching English in a small village in the countryside where I bumped into two Icelandic guys. Check out the video. The madness they called travelling was outstanding from my point of view. They travelled from Latvia to Cambodia overland in six months. They had the idea of paddling on the River Mekong. I mentioned to them that I was a white-water plus a canoe guide, so they suggested me joining them. I happily took the offer and we arranged a meeting a week later in Vientiane, the capital of Laos. We met there but they refused to paddle for medical reasons. So I was on my own. After careful planning and buying some basic equipment I pulled off in Huay Xai, a sleepy border town between Thailand and Laos by the Mekong.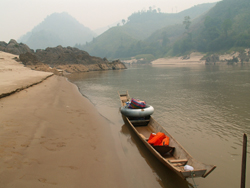 I paddled 150 km in a local canoe in six days among dangerous rocks and rapid water, but the kindness of the warm-hearted people amazed me so much that I couldn't care about anything else but them. I stayed at villagers' houses who hardly heard about foreigners and only very few of them met any. They gave me food and the feeling of being at home.
Although I planned to paddle further down to Luang Prabang another 120 km I listened to my intuitions and sold the boat in a small town. I felt terrible as I had never given up before and didn't really understand myself. Next day I jumped on a regular boat that took me Luang Prabang where I left most of my luggage. On the boat I met a Buddhist monk who answered more questions to me about life than anyone else before. I joined him and we travelled to China and Thailand where I stayed at his monastery. We spent 2 months together which changed my way of thinking in the best way forever. I thought I couldn't get more, but as I had treated the river with respect it has presented me with the greatest gift I have ever got.
* * *