Introduction – Who are we? Why canoe with us?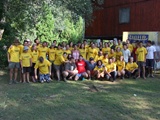 We are a great, cheerful team, united by our devotion to sports, Nature and people. Our canoeing tours are special because we are not only technically professional, but because participants get during their holiday what is most important: attention. We provide not only physical but emotional safety.
Canoeing is a way of life, our way to make the world an even better place. It involves things everyone loves: summer, beaches, good company, sunshine, relaxation, light outdoor sports and interesting programmes. Our goal is to transmit this quality canoe touring experience to many people. The emphasis is not on the physical part, but on the carefree joy and colourful adventures. Many times the canoes hold together and go with the flow. We visit little river branches and islands, anchor at the best places and swim, have fun and delicious food.
We like playing, talking to people and see the amazement in their eyes how interesting and colourful the world of canoeing is, showing everything they have never met or just simply relaxing together.
Our guides have been paddling the Hungarian and foreign waters as a hobby since 1992.
Still, why spend your water holiday with us?
Because we know how to pay attention and leave you free at the same time. Just seeing, not overcontrolling. Not rebuking, just asking. Listening without pressing on. Just listening. The real knowledge is the knowledge of human nature. We canoe that river. And we don't want to change anyone.
Our experience spans from the Danube to New Zealand via the Mekong and Ganges.
We have already welcomed participants from almost 50 countries due to CouchSurfing and other international tours. We would like to contribute to the better understanding between nations by organising international tours.
Who may join us?
Our youngest passenger was 3, the eldest 70. We organize international tours, school trips, teambuilding trips – everything one may wish in relation to water trips.
It is very important for us to keep our professional knowledge on the highest level by continuous learning in order to give the highest possible quality. We keep repairing and renewing our equipment and expect our partners to do so.
Our motto is "switch off your mind". It means we shop, cook and arrange everything for you. Rent bus, buy tickets, transport canoes and your belongings.
Feel the FUNshine!
Canoeing and kayaking tours Hungary